If you're looking for a fresh, fun way to decorate your home, these unique planters will have you giving two green thumbs up. While digging in the garden can be a relaxing activity, not everyone is afforded the space for the vegetables, fruits and flowers. So if you're lacking a garden, or find yourself missing the gardening season when the colder months come rolling in, keeping a few unique planters in your home can spruce up your space and your mood.
---
1

Dinosaur Planter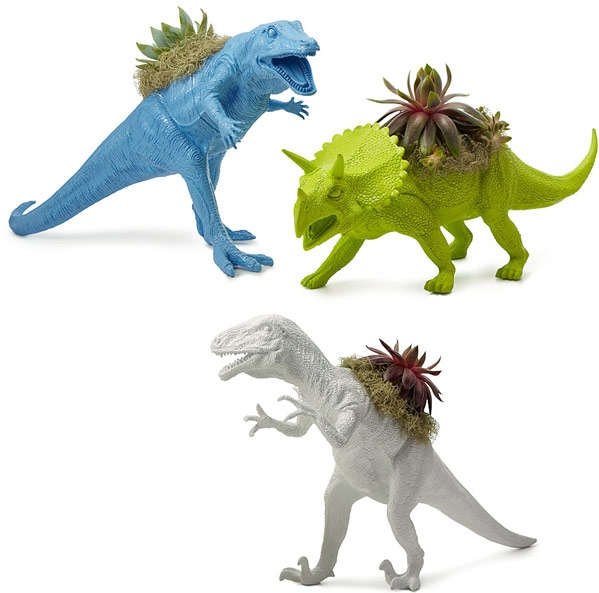 A simple search on Etsy.com yields thousands of results for unique planters. This selection of dino planters from the Boy-Girl Tees shop has some real bite. These hand painted repurposed toy dinosaurs are the perfect size planter for your child's bedroom, play area or as a whimsical desktop addition to your home office. Each and every re-designed dinosaur planter includes a tiny Tillandsia air plant. This is one evergreen planter that won't go extinct any time soon.
---
2

Ceramic Owl Planter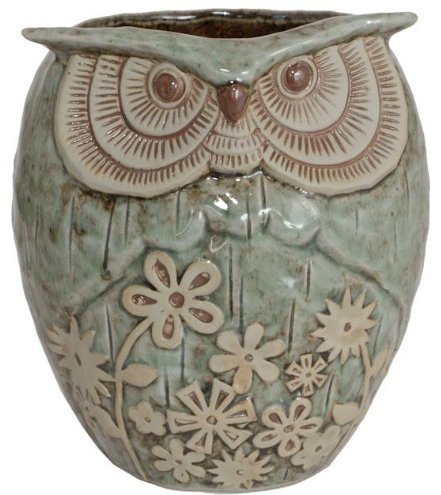 This unique ceramic owl planter is really something special. The creamy undertones paired with aqua are perfect together. And the floral detailing in the body is too sweet not to show-off as a dining room centerpiece. Can you imagine some white daises peeking out of this wide-eyed wonder? With a little bit of country flare, this ceramic owl by the Home Decorators Collection is one planter that really brings something to the dining room table. Visit Amazon.com to order one of your very own.
3

Galvanized Metal Vintage Style Planter Pots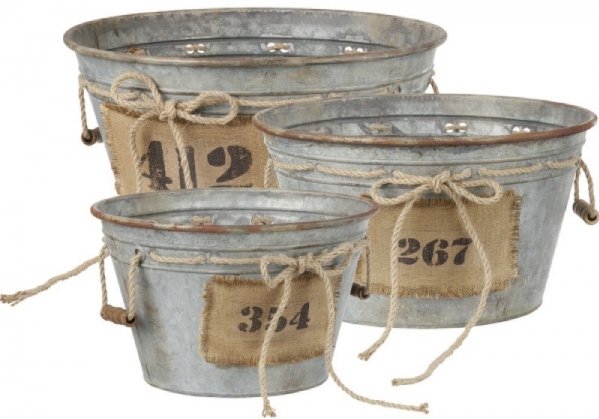 This set of three metal planter pots prove that everything old is new again. The nostalgic vintage design is simple yet sweet. With burlap and rope accents, these galvanized metal planters are perfect for some decorative florals in your mudroom, back patio or country cottage style kitchen. This set of three can be found at PrettyCleverDecor.com. But if you're thrown off by the price tag, take to Pinterest for ideas in crafting your own vintage style planters!
---
4

Growing up Hanging Planter in Earth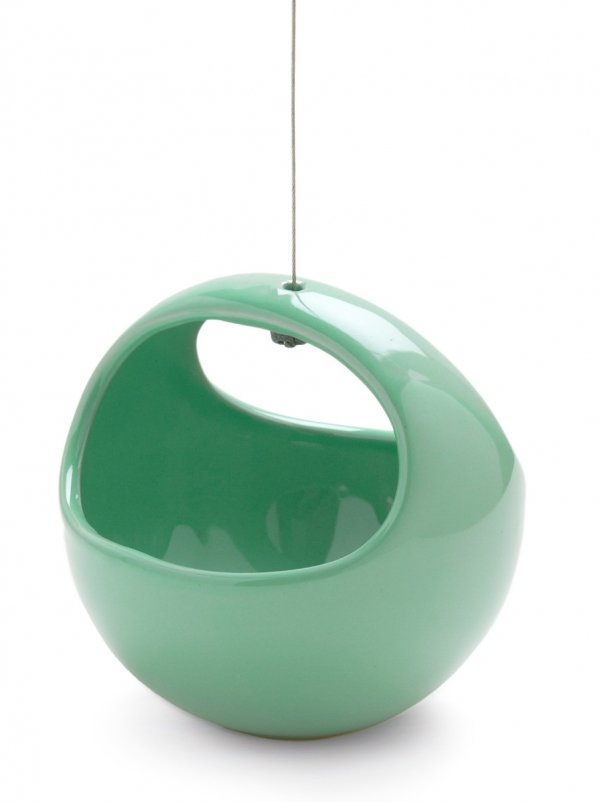 If you're especially hurting for space but are longing for a little greenery in your home, this hanging planter is the solution. This wire hanging ceramic planter in mint would be a mod little addition to any living space. Simply pick a small houseplant and hang in a corner for an added floral touch. It's the perfect pick for any small apartment or the tabletop minimalist who prefers to keep the surfaces clutter-free. For the Growing Up Hanging Planter In Earth, visit ModCloth.com.
---
5

J Schatz Planter Collection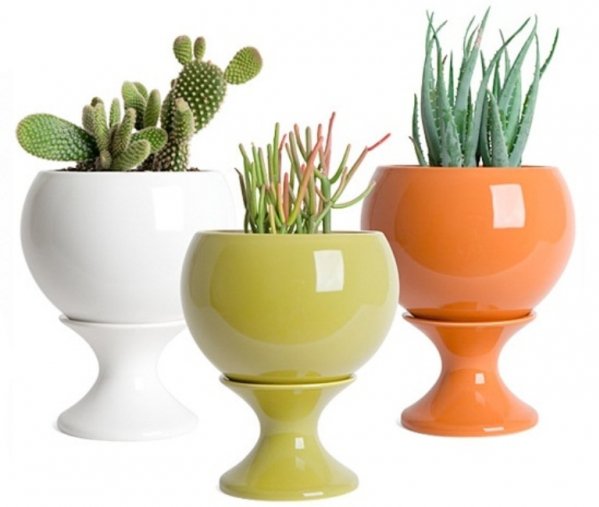 I'm loving the color scheme on this stoneware planter collection from renowned designer J Schatz. The modern structure and high gloss sheen make these tabletop planters the perfect choice for any luxe home decor collector. While these artisan pieces can be hard to come by due to cost or availability, you can look for similar designs for a fraction of the cost at Walmart.com.
---
6

Iggy the Giraffe Planter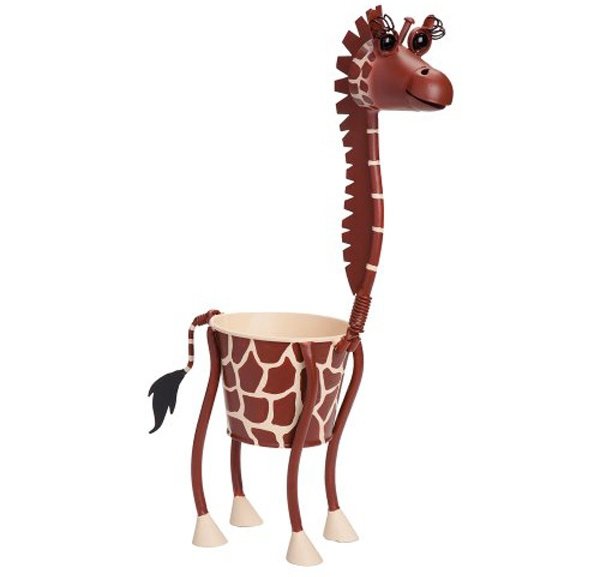 For animal lovers and green thumbed home owners, this Iggy the Giraffe Planter is a charming, kitsch pick for both indoor and outdoor floral decor. Standing over 17" high, this planter is sure to be noticed. Perfect for a porch, patio or child's bedroom, this giraffe is certainly unique. And with the spring-loaded neck and tail, the added movement is sure to be a hit. Look for a lush evergreen fit for a 5" pot and bring Iggy home from Target.com
---
7

Royal VKB Herb Garden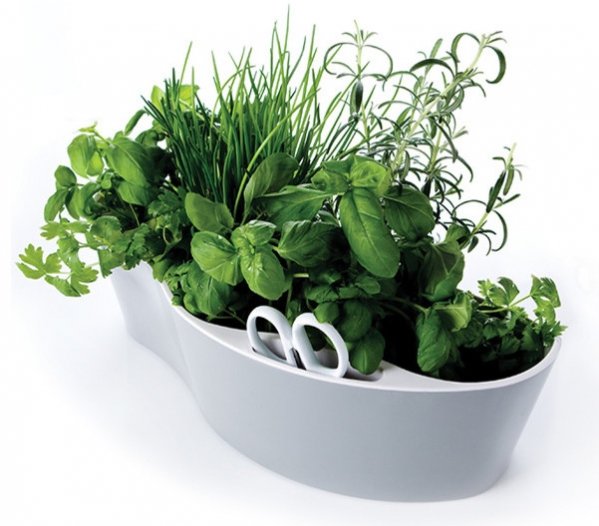 This mod white planter is both decorative and functional for the kitchen. Tuck in store-bought or home-grown herbs and keep your favorite flavored decor neatly on display. And, of course, no herb garden planter would be complete without a pocket that keeps your tiny herb garden scissors handy. So the next time you're cooking up a storm, take a moment to admire your kitchen decor. And don't forget to trim a bit of fresh basil for the marinara! Go to RoyalVKB.com for your own herb garden planter.
When it comes to fresh decor, a unique planter can become the statement piece to display your favorite houseplants, herbs or flowers. Hang them in the corner, sit them front and center on the dining room table or store them neatly on the kitchen counter. What kind of planters perk up your living space?
---
Comments
Popular
Related
Recent