5 Tips on Making Pumpkin Pie ...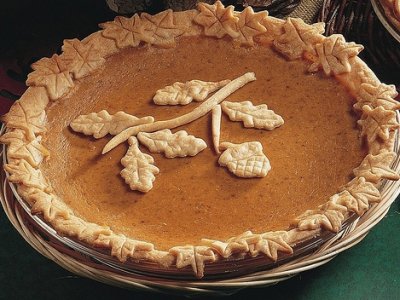 Thanks to the invention of pumpkin in a can, baking a pumpkin pie has become much easier. I still prefer to make my pies from scratch. I like everything from picking out the pumpkin to cutting out pie crust designs for the top of the pie. Here are 5 tips on making pumpkin pie from scratch.
5.

Choose a Small Pumpkin
The bigger the pumpkin, the stringier the inside will be. I've still had successful pies with medium sized pumpkins, but they weren't nearly as smooth the pies made with small pumpkins. Of course, you also won't have as many seeds either, which my family loves to roast in the oven and munch on.
4.

Allow for Extra Time in Preparation
Remember that you will need to figure in time for preparing the pumpkin for cooking. It will have to be washed, peeled, have the seeds taken out, cut into cubes, cooked and mashed. This takes a lot more time than necessary for opening a can of pumpkin and dumping it into the bowl.
3.

Drain the Cooked Pumpkin
The first time I used fresh pumpkin for pie, I merely substituted cooked pumpkin for canned. I didn't take into consideration the amount of water pumpkin naturally has in it. Fresh pumpkin needs to be allowed to drain or the pie mix will be too runny. I usually cook the pumpkin the night before and place it in a strainer to set over night.
2.

Avoiding a Burnt Crust
After the pie has been cooking for about 30 minutes, check it to see if the crust is getting too dark. If it looks like the crust will end up being severely burnt by the time the pie is finished cooking, place a sheet of aluminum foil over the top of the pie. I have yet to make a pumpkin pie that didn't require this step!
1.

Decorate the Top for a Bit of Character
I like to cut out shapes from the extra pieces of pie crust and decorate the top of the pumpkin pie. Sometimes I cut out a few leaves from the dough and place them in the center of the pie or even some shapes to make a Jack-O-Lantern face in the middle.
I don't mind the extra time it takes to make pie from a fresh pumpkin. I actually think it's a lot of fun! I only make pumpkin pie during the fall, which is probably why I don't mind making them from scratch. It's sort of turned into a fall tradition. Do you have a special way of making pumpkin pie that you are known for in your family? What other baking tips do you have to share for pie making?
Top Photo Credit: Betty Crocker Recipes
{{#comments_count}} Show Commnents ({{comments_count}}) {{/comments_count}}